Visitante -
- Visitor

29 de diciembre 1888 - 12 de abril 1927 December 29, 1888 - April 12, 1927
Canonizado el 21 de mayo de 2000 Canonized on May 21, 2000
por el Papa Juan Pablo II by Pope John Paul II

Español English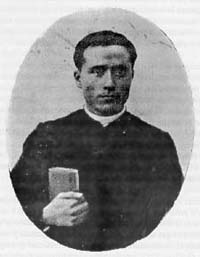 +++++++++++++++++++
St. David was known by many as being a great orator. He spoke the truth of the Gospel and wanted to spread God's Word by guiding his Mexican brothers and sisters into a deeper understanding of their Catholic Faith. To help us continue the work that St. David began, the Tlatoani Language School has offered to allow members of our organization and of the community to use their school facilities to hold meetings, teach catechism and plan the annual Fiesta in honor of St. David.
The Tlatoani Langugage School offers Spanish classes for those who want or need to learn Spanish as a Second Language. Classes are designed to help students learn to speak Spanish and learn the cultural nuances that impede effective communication, especially for those who work with Hispanic immigrant populations. We provide a special language program in the Catholic tradition for laity, clergy and religious.
It was party time!
¡Fuimos a la fiesta!
The second annual fiesta celebrating the anniversary of St. David's canonization was held on May 21, 2002 in Buenavista with a Mass at 12:00 noon followed by a community meal. See the Gallery for photos.
La segunda fiesta anual celebrando el aniversario de la canonización de San David tuvo lugar el 21 de mayo en el pueblo de Buenavista con la celebración de la Santa Misa a las 12:00 del mediodía con una comida comunitaria a continuación. Vea la Galería para algunas fotos.